Residential Roofing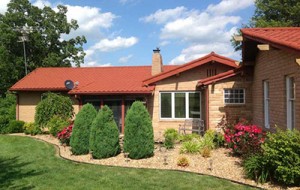 When we build a roof—whether new construction or replacement of an existing roof --our goal is to provide the homeowner with a sound, long-lasting roof that also enhances the look of your home.
Choose us to install asphalt or stone coated steel roofing for you, or DaVinci resin tile roofscapes. You'll quickly see how we take pride in our service. We're also proud of our competitive pricing. And the quality of the materials we use is second to none. We are happy to provide you with financing options and choice of warranties.
When you're ready for the best stone coated metal roof for residential application, we've got that for you! We carry Varitile, Decca and Boral Steel roofing products. And we're building a name as the best metal roofers in Springfield, MO.
Looking for top-of-the-line natural slate roofing that will last a lifetime? We carry Vermont Slate roofing tiles in eleven gorgeous colors.
With our years of experience, we can help homeowners find the residential roofing options that best meet their needs and budget.
Your roof is the first step in protecting your home, family and possessions from the weather. That's why you want to be completely certain that your roof is the best it can be. That means the right materials, properly installed.
Homestead Roofing has been installing residential roofing in the Springfield, MO area for many years. Our installation crews are properly trained craftsman, dedicated to working on your roof. Our crews are experienced in asphalt and metal roofing system installations. And of course we're fully licensed and insured.
We mainly use well-known and established brands such as Owens Corning and Certainteed roofing shingles
A Big Decision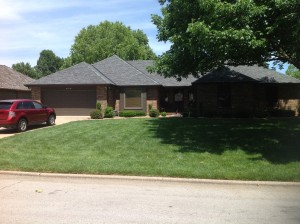 We know that choosing to replace your roof is a big, important decision. And we know that you want the best roofing within your budget. We also know it's not something you do lightly – and neither do we. We want to earn your business, and so we use only the best materials, trained crews, and best industry practices to build your new or replacement roof.
There's an added benefit to a new roof, too, and that's the chance to give your home a new exterior look. Choose your roofing materials, your colors, and tile shapes, to create a fresh appearance for your home.
Contact us for a free estimate, and let us show you the many new roofing shingle options you can choose from.