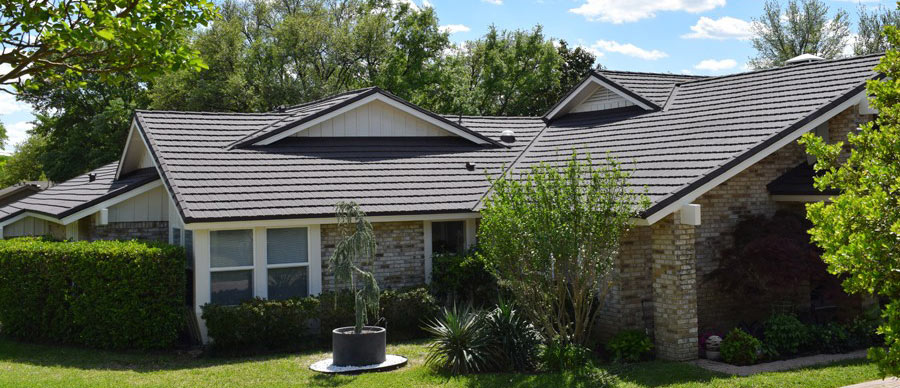 VARITILE ROOFING SYSTEMS: Beautiful, Durable, Lightweight
With ten styles and a rainbow of colors, Varitile roofs mimic the look of traditional roof products, but are made from steel, covered with a wide range of finishes. Whether you want the look of clay tile, shake, classic shingle, or European style roofing tiles, Varitile has it.
Perfect for new construction or re-roofing projects, Varitile lightweight roofs work well - and look splendid - on residences, office buildings, retail stores, schools, leisure facilities, churches and more. They have been designed to last and to protect your building from fire, and foul weather events.
Long Lasting
Of course you want something that will stand the test of time, and metal roofs can last more then 50 years. years depending on the material used. These roofing materials provide excellent durability and are coated to resist rust.
Lightweight
Built low weight to help preserve structural integrity and life, these roofing panels weight substantially less than conventional roofing.
Fire Resistant
Metal roofs are Class A noncombustible, so they will not go up into flames in the event of a lightning strike or wildfire.
Resists Natural Disasters
Resilient metal roofing can withstand strong winds, with some metal roofs resisting even gusts up to 140 miles per hour. They will not will not corrode or crack. And depending on which metal you choose, they may be impact-resistant. They can withstand a huge amount of snow accumulation during winter, but also resist UV rays from the sun.
Low Maintenance, Environment Friendly.
So durable! Repairs on these roofs are very infrequent. And because they can last a lifetime, they eliminate the need for landfill disposal of old roofing. At the end of their lifetime, they are 100% recyclable. Plus, their low weight minimizes transportation cost.
Find Your Favorite: The Choices Seem Endless
So many styles and color choices! Whether your home or business is traditional or modern, you'll find a tile style to match perfectly. And you'll be able to choose a color that will seamlessly compliment the exterior of your building.
Below are the styles we offer, with just a few color samples. The different tiles come in different color choices. We'll be happy to show you all the color choices when we come out to give you a free estimate on a new Varitile roof.